MONDAY: CLOSED
TUESDAY: CLOSED
WEDNESDAY: 17:00-01:00
THURSDAY: 17:00-01:00
FRIDAY: 15:00-03:00
SATURDAY: 15:00-03:00
SUNDAY: CLOSED
The LEFT HAND PATH is perfect for extreme metal records release receptions, with the perfect caption of dark moods.
Beer presentations, drink tasting and other gory and tasteful events, will also take place in the dark rooms of LEFT HAND PATH.
Guest DJ´s playing their own take on extreme metal. We will guarantee the most brutal playlists!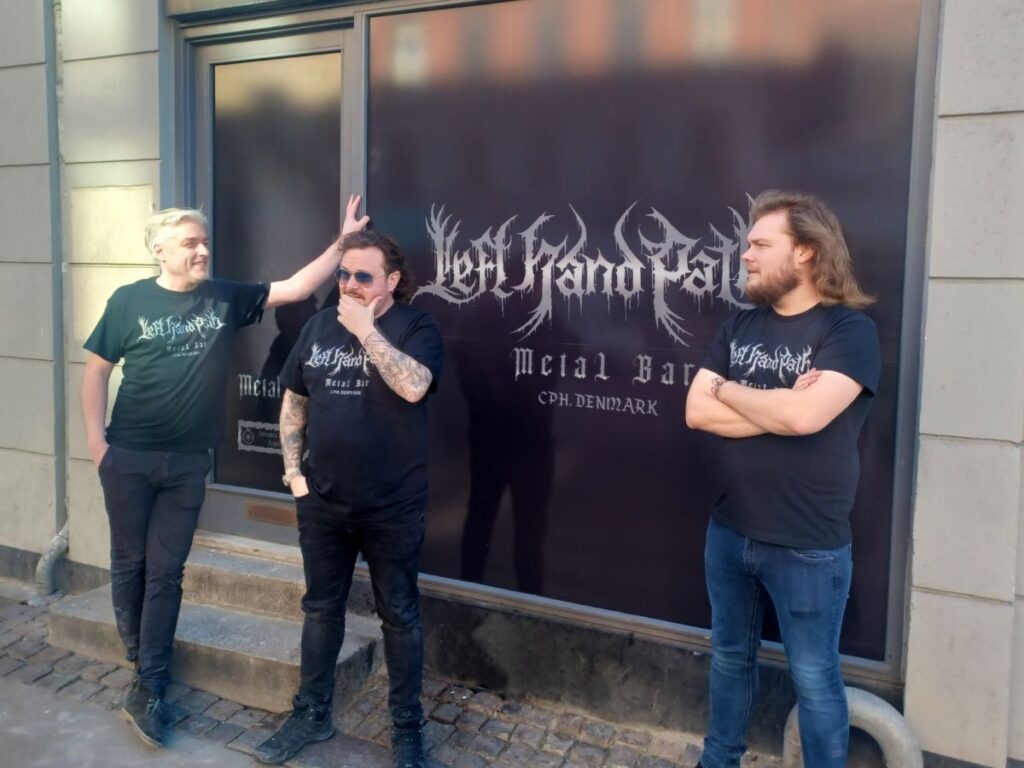 Copenhagen is the capital of Denmark and the largest city in Scandinavia with its population of 1.5 million people. it is quite a mystery that this amazing metropolis established 855 years ago and often mentioned as the Nordic Capital does not have an actual METAL BAR. This is about to change now.
LEFT HAND PATH is the brain child of music entertainment impresario and metalhead Michael H. Andersen and his team. In 2022 Michael celebrates his 30th anniversary in the music business, since releasing his first metal fanzine Emanzipation 'zine back in the Spring of 1992.
LEFT HAND PATH will showcase 30 years in the metal scene with focus on the extreme genres, death metal, black metal, doom metal, thrash and heavy metal. With special, rare items like rare demo tapes, 7"ep, posters and flyers from the vaults of Michaels own collection and beyond. It will be the place for future metal release parties, pre- and afterparties and simply a hotspot for a big audience missing previously missing the opportunity and place to hang out and enjoy the extreme genres and lifestyle of metal.
Michael states: "Finally Copenhagen will have its own real METAL ROCK. A future home for people with a wicked and non compromising interest in extreme metal. This is another dream come trüe and only possible because I chose to follow the LEFT HAND PATH three decades ago".
Morten Varano, who besides running Rust, Whammy Bar etc. has also been involved in building and re-designing Hotel Cecil, Gimle etc., is involved to design and build LEFT HAND PATH with close guidelines from Eske Jeppesen, manager of Zeppelin Rock Bar and Michael to capture the right spirit of metal.
Morten says "LEFT HAND PATH is a way of life for Michael and his close equally minded colleagues, friends and business partners. Often being mistaken by the Satanic meaning of the words, LEFT HAND PATH is about choosing another life style than the average Joe, stand out from the crowd and trust in your own believes. Metal weekend warriors who wear their battle vest twice a year is not a part of this society. LEFT HAND PATH is also the title of the iconic debut album of Swedish death metal legends, Entombed, and this only underlines further that this is the perfect name for the first only METAL BAR in Copenhagen, Denmark.
The menu of LEFT HAND PATH will offer a special selection of drinks, shots, craft beer to satisfy metal heads from all over the world.
We expect an international following and visit for LEFT HAND PATH in 2022. One of the first places for a real Metalhead to visit in the new year, is LEFT HAND PATH.
Friday the 14th of January the official LEFT HAND PATH opening took place with free entrance and special alcoholic treatments for everyone.
The logo of LEFT HAND PATH is created by Christophe Szpajdel (Emperor, Arcturus, Borknagar etc.).